Clear aligner instructions for use
Made in the USA
Contains no BPA or phthalates
Manufactured by:
OrthoFX – 48890 Milmont Drive,
Fremont, CA 94538
Last Revised:
9.10.2020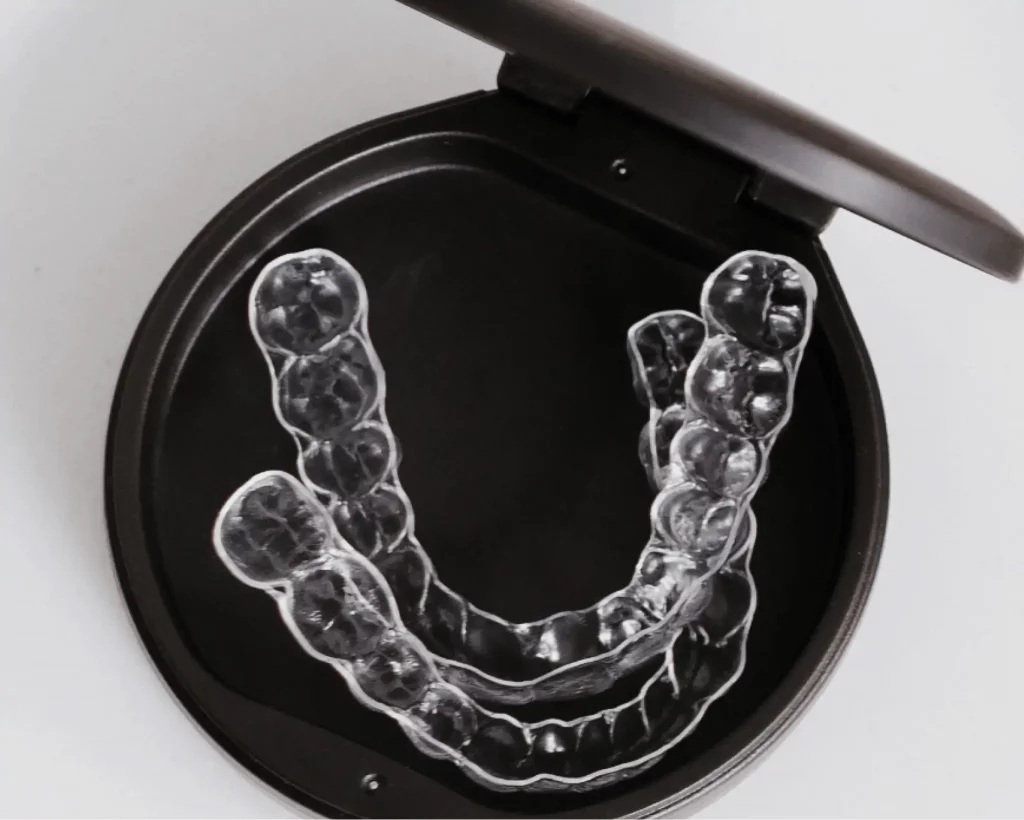 OrthoFX Invisible Clear Aligners are custom made thermoplastic polyurethane orthodontic braces.  
The Smylio Invisible Clear Aligners are indicated for use in the alignment of permanent teeth through orthodontic treatment of misalignment and malocclusion. 
Rx only. Federal law restricts this device to sale by or on the order of a physician. 
Patients whose permanent teeth or second molars have not yet erupted
Patients with poor oral hygiene
Patients with active periodontal disease
Patients with dental prosthetics
If you have an allergic reaction, please discontinue use and contact your doctor and OrthoFX Customer Service.
Aligners are non­-sterile, rinse before use.

Accidental swallowing of aligners may be harmful.

Keep your aligners away from children and pets.

Keep your aligners away from alcohol, hot, acidic, sweet or colored liquids.

Keep your aligners out of excessive heat.

Do not wear OrthoFX aligners while eating, drinking, chewing gum or using tobacco products. Brush and floss after eating to prevent food from getting stuck in teeth and under aligners.

Clean your aligners after brushing your teeth, by gently brushing your aligners using a toothbrush and white soap and rinsing with cool water.
OrthoFX Clear Aligners can cause serious side effects; however, these side effects occur in only a small number of people. Your doctor will monitor you for them. These side effects often go away if you stop wearing the aligners. These side effects include: 
Discomfort
Tissue damage 
Relapse (tooth movement post treatment) 
Extractions (tooth removal)
Decalcification and dental caries 
Root resorption 
Nerve damage 
Periodontal Disease 
Temporomandibular Joint Dysfunction (TMJ) 
Occlusal Adjustment 
Non­ ideal results 
Allergies 
General health problems
Complications due to third molars
Complications due to the use of tobacco products
If any of the complications mentioned above do occur, a referral may be necessary to your family dentist or another dental or medical specialist for further treatment.
 OrthoFX aligner case and print materials. 
Carefully remove the OrthoFX aligners and any additional accessories from the OrthoFX package and examine them for defects. Do not use defective appliances.
Rinse the OrthoFX aligners thoroughly with cool water.
Place the OrthoFX stage 1 aligners on your teeth and push down.
Wear these stage 1 aligners for 22 hours a day for one week.
OrthoFX aligners will fit tightly and will apply pressure to your teeth. This pressure will lessen over time as you wear your aligners.

Note: You may notice a slight lisp when you initially start wearing your aligners. This typically goes away after a few days. You may experience dry mouth during aligner treatment; if so, please drink water.


Wear each stage of aligners for one week before advancing to the next stage of aligners, or as prescribed by your doctor.
Your aligner packages are sequentially numbered for easy identification. Once you have worn the aligner for one week, move to your next aligner.
Once you have moved onto the next aligner in your treatment, keep your previously worn aligner in the package it came in, just in case you lose or break your current one. Before storing the aligner, rinse thoroughly with cool water.
After treatment is complete, dispose of aligners in accordance with local government policy.
The aligner should be worn 22 hours per day.
Do not wear aligner after the expiration date printed on the bag it came in.
Store your aligners in the provided OrthoFX aligner case when not wearing them.